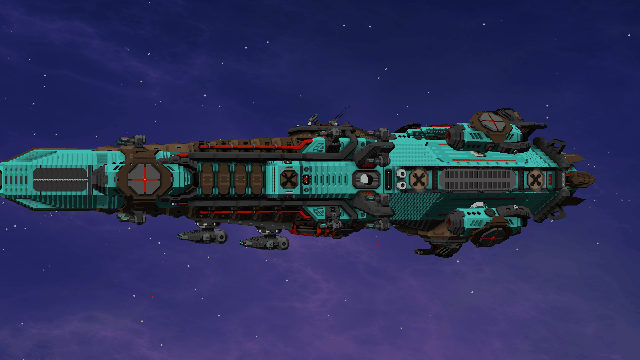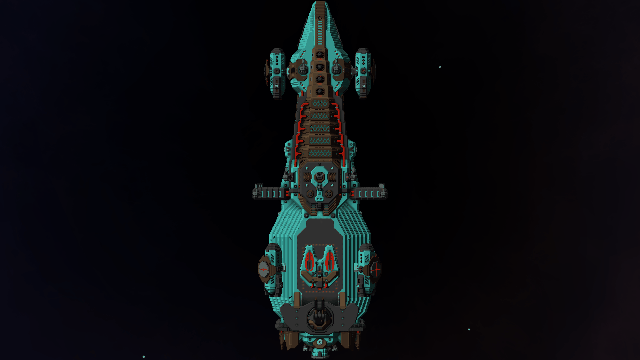 Allow me to present the mighty
Sobek Dreadnought
, one of the largest and most complex ships I ever built in StarMade.
After a ton of creative effort, this thing ended up being one of those StarMade creations where you couldn't possibly fit enough text/images into the description section to cover everything that's worth seeing/trying out in it.
So I invite everyone interested to check out this ship in-game, and then tell us about your impressions / what you liked / what you think could use improvement. Have fun while exploring its
extreme
interior and testing its
crazy
rail and logic features!
The 3rd and 4th row of the hotbar contain the controls for the right and left side of the hangar bay.
Make sure to have the "Recall state" remotes turned Off, before trying to launch fighters with the "Next fighter" remotes.
Make sure to have the "Recall state" remotes turned On, before trying to redock fighters via Pickup Points.
After choosing an engine orientation option other than the default, make sure to deactivate its hotbar remote before trying to choose another option.
Deactivation brings all engines back to "move forward".
Leaving either engine remote turned on disallows the use of any of the other engine remotes.
Here are 4 of the 6 engine orientation options:
Move Backward, Strafe Upward, Strafe Downward, and the default Move Forward
(the others are Roll Left and Roll Right)