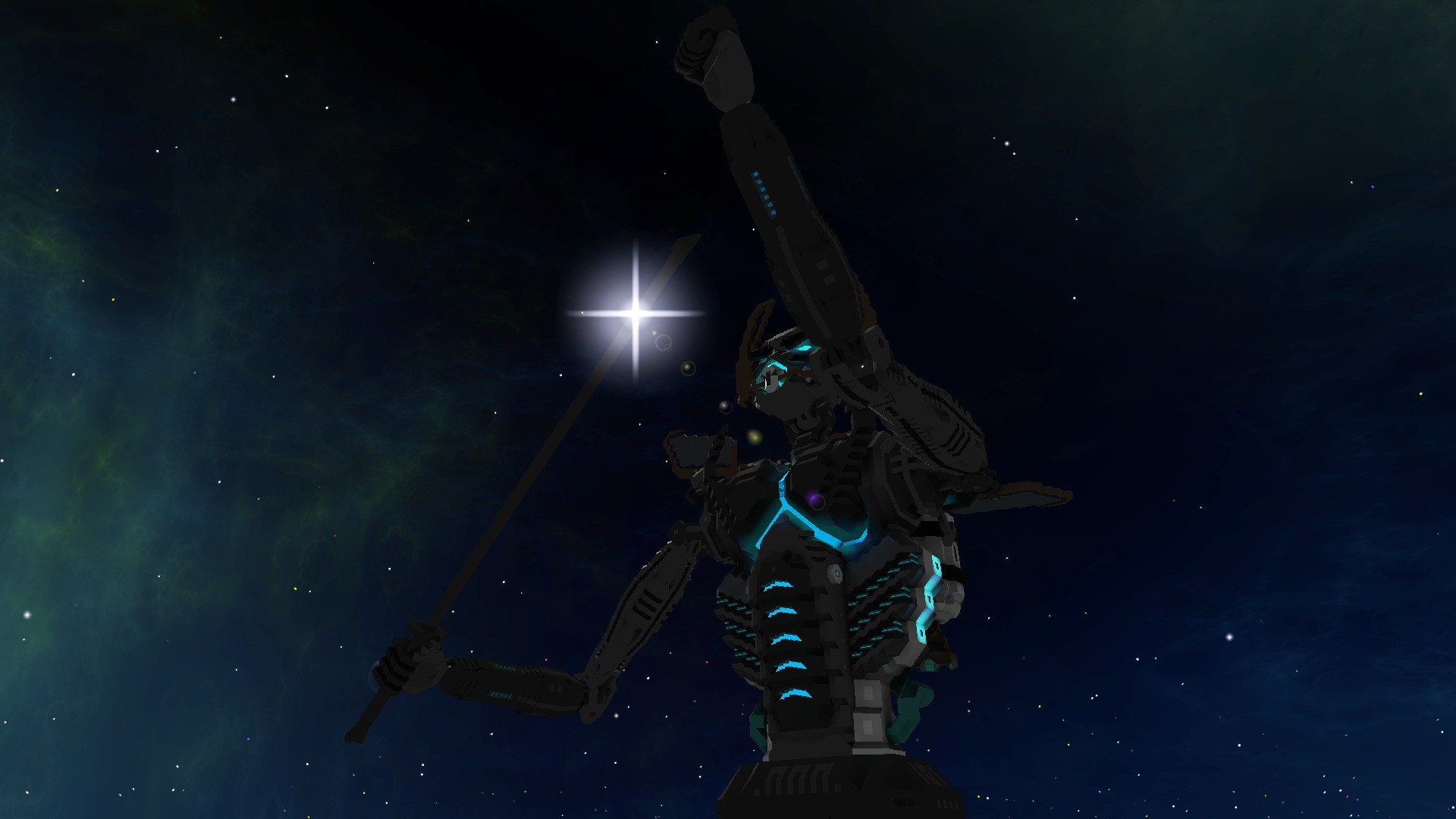 Allow me to present one of my proudest StarMade creations,
the Samurai Mech
(Or you can call it
Samurai J(etp)ack
too, that was such a great cartoon series)​
I've been planning to build a mech ever since I saw a few really well-made ones here on the Dock. After I decided to give it a try, it took six days to finish the shell, and although I originally intended this to be a prototype, it turned out good-looking enough to become the final thing.
This mech is an original design of mine, I didn't use any visual inspirations for it. It's 184 meters tall from the bottom of its feet to the top of its head, and 195 if the horns are included. If I'm counting correctly, it has 21 joints (rotation points), all controllable from the hotbar.
Its current fun features include a razor-sharp plex door katana sword, and a cool "Wake Up!" animation. There are enough thrusters in those huge jetpack tanks to be able to fly around with non-sluggish speeds. It also has a simple little interior, and a "Nervous system room" granting access to all of its logic, so that new animations can be added easily.
CHECK OUT MY OTHER MECH TOO:
KORTHEX - The Deepspace Mech
In flight mode, you will find an Inner-Ship Remote for each controllable part of the mech. These remotes are organized by category on the first five rows of the hotbar. Additionally, each hotbar row contains a "Direction switch"; clicking such a direction switch once will change the direction in which ANY body part will rotate when you signal them to move; a second click will toggle the direction back, and so on.
1st row: Animations; Head; Hip
2nd row: Right arm movements
3rd row: Left arm movements
4th row: Right leg movements
5th row: Left leg movements