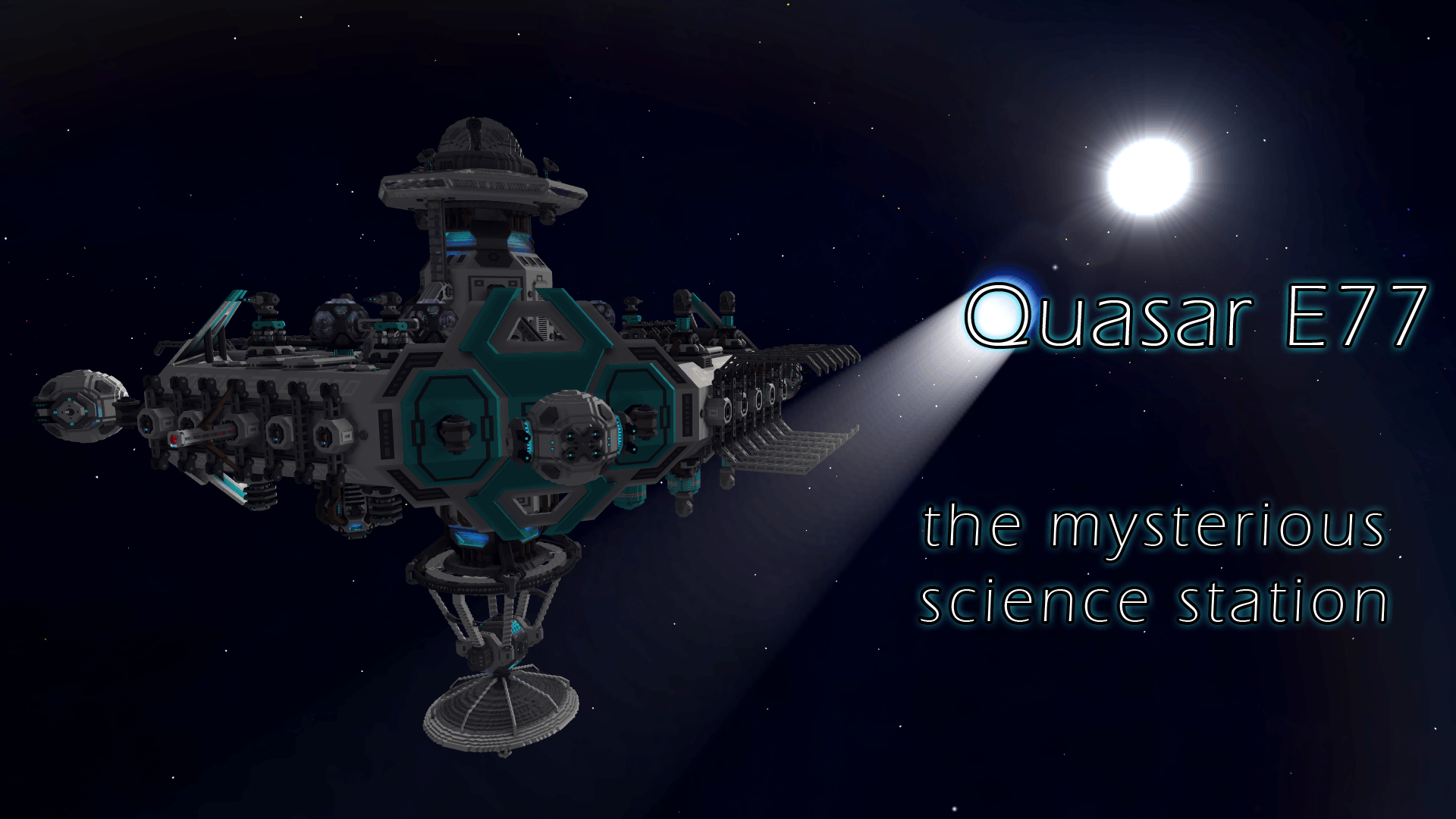 Quasar E77...
A gigantic pearl oyster hidden among the nebulas.
StarMade interior architecture pushed to extremes.
Constructed using a meticulously designed, modular interior template pack.
A maze of ultra-detailed hallways and compartments, all following a uniform, high-standard style.
Completely self-sustained: whatever you'd need to have in a real space station, you'll have it in this one.
Featuring many deeply immersive roleplay elements, with a lot of attention to orderliness and consistency.
Sometimes stylish and cozy, sometimes bleak and industrial, sometimes sinister and downright spine-chilling.
Easily at least two hours worth of explorables.
Navigate – Absorb the mood of the place – Find pieces of stories – Conquer your fear within the darkness – And discover the SECRETS!

And, all the while, have fun (just don't forget to watch your back)!
IT IS NOT RECOMMENDED TO USE THIS STATION WITH LOW-PERFORMANCE COMPUTERS OR IN SURVIVAL MULTIPLAYER, BECAUSE:
It has about 95 docked entities, including a few very large ones.

It contains a lot of Repulse Modules, used decoratively, which are said to add performance strain.

It contains a lot of Power Supply Modules, and a few Shield Drain Modules, used decoratively, which have become outdated and unobtainable (so the station can't be spawned with the blueprint-fillout method, only Admin-Loaded).
EXTERIOR:
Astronomical observatory with a usable optical telescope

Massive radio telescope that realigns itself once every 20 seconds

4 powerful floating sphere cannon turrets

10 anti-missile turrets

4 small laser turrets

Glass domes with trees

Actual chamber machinery on the underside connected with actual piping
INTERIOR:
Living necessities for a crew of about 100 people (and a bunch of droids)

Mineralogy labs

Chemistry labs

Astrobiology labs

Cryogenic sleeping chamber

Android maintenance bay

Android army warehouse

Comms & Security center (contains faction module, build block, main storage access)

Hydroponic gardens

Water and atmosphere management center

Electric power center

Nuclear power and shielding center








AN INVITATION FOR SOME FUN:
​
Do you have an explorer's or detective's spirit? - Then you will love Quasar E77!

The main focus of this station is interior exploration, and I've put quite some thought and effort into making it worth it. If you are explorative enough, there will come several points where you will face something odd, fishy or worrisome. To prepare for such moments, let's just say that certain things "might" be just the first layer of strangeness, with a second (or perhaps even a third) layer residing much closer than you would think upon first glance. Being attentive and caring to search will bring major rewards!

To give a rough idea of what to expect, if you find the most sinister part of the station (and there are many), no less than three layers of spine-chilling strangeness will lead you to face (and I mean face-to-face) either monstrously drooling jaws, or... who knows?
CHALLENGE: find the 16 suspicious strangers hiding throughout the station - listen to what they "say", take it with a grain of salt, and find out the true reason of why they are hiding - depending on your investigative skills, you may discover that there are actually two equally worrisome reasons for their hiding.
​
​
CLUE: find the visiting corporate executive's room in the private rooms corridor of the habitation section - the email left open on his computer's display has an unmistakable reference to the station's biggest hidden secret - the backbone of the station's lore narrative, which overaches the secondary storyline of the hiding strangers.
​
I would be really-really curious to know if someone managed to find the BIGGEST SECRET. Please share your impressions and tell me and others about your discoveries in the reviews