* W00T! Power / Weapons 2.0 certified (!) *
Hammerfall Planetary Assault Cruiser (P.A.C.) - It's time to invade some planets. Let the Hammer FALL!!!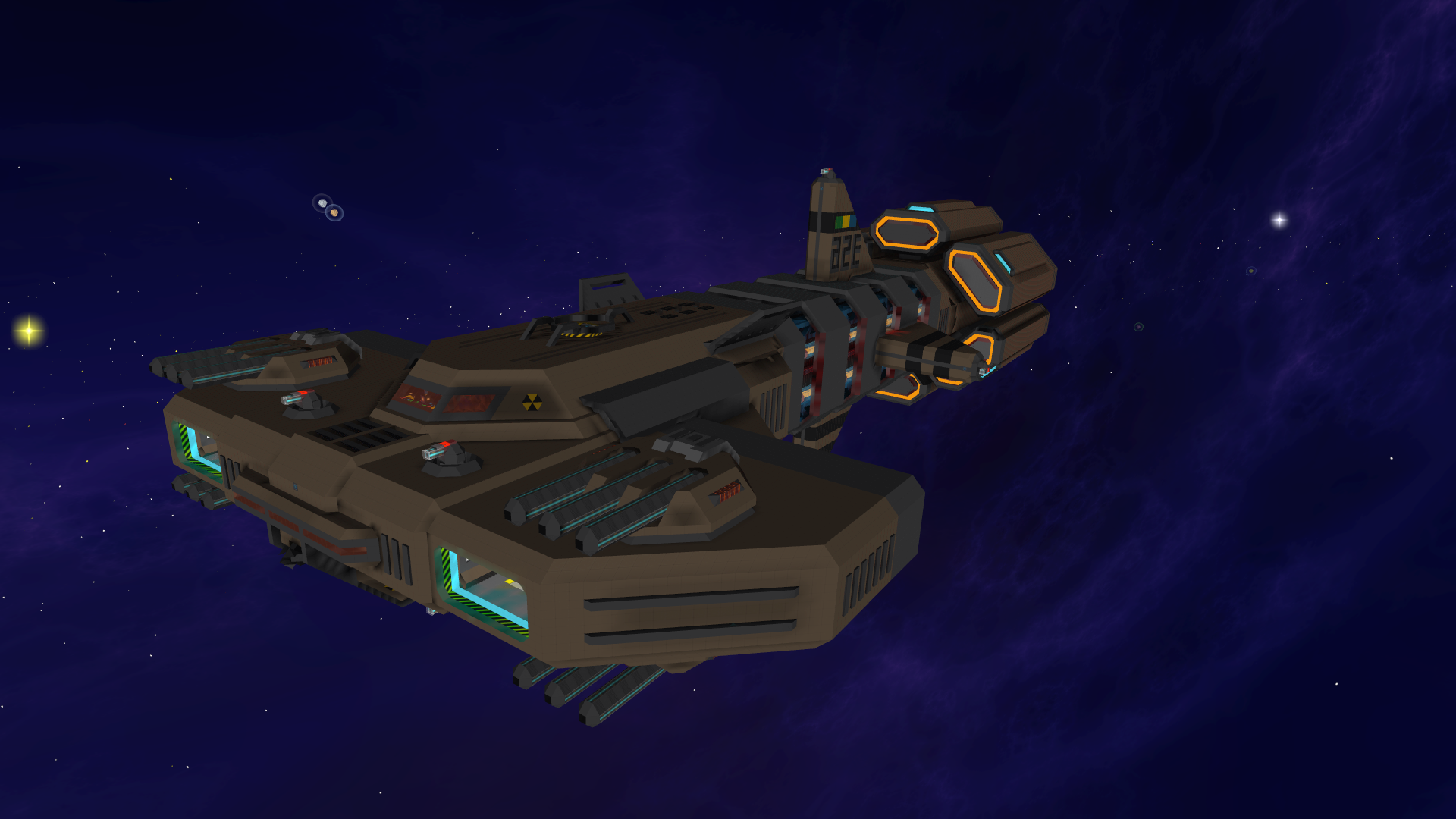 We are above the law...
Let our power show...
That we're in full control of
YOUR
destiny...
​
The Hammerfall is a vessel specifically designed by Emperor Klawxx to Expand the Dominion borders and as such It's the backbone of the Dominion Navy. It's also an incredibly stylish logic theme park, mind you!
With it's triple cannon turrets as cover fire the Dominion Army can safely invade any planet using the six X-31 available at the Hammerfall ventral section.
Also, there's a Nova Assault Truck at the bow that can be parachuted into the action to provide ground support.
It's important to know that the Hammerfall features the new amazing W.A.C.K.0. (TM) Tesla based reactor. You can power it directly from its chamber or on the ship hotbar itself.
Another cool tech is the W.T.F. (TM) core protection system, that isolates the ship core from unauthorized access. There's also a lot of other important security features in place that you might like.
Oh yea, also... Do not forget to check the fully featured Launch bay system with automatic ship pick-up system. You can launch all six X-21 Dropships at once and then safely store them on the bay after they return. There's so many features on this ship!
Dimensions:
+Length: 255 m
+Height 81 m
+Width: 129 m
Statistics:
+ Mass: 39,509,398
+ Shields: 10,675,875 (211,825 s/sec.)
+ Power: 699,900 e/sec. (100% stable with 21.6% buffer)
+ Thrust ratio: 2.0
Weapons:
+ (4x) Havvagon-Xi triple Cannon Turrets (simple Cannon)
+ (1x) Akhua Banthar Anti-Capital Laser Beam (pure Beam)
+ (8x) Ballazar Point defense Turrets (1+1 standard machinegun Cannon)
Systems:
+ Improved Jump Drive
+ Standard Scanner
+ Transporter with 4 pads
Highlights:
+ Core and bridge, rail based, Lock system
+ Logic controlled, USD compatible, umbilical docking clamp
+ Six Dropship bays with auto pick-up system
+ Two large Cargo Holds with shelves
+ Forward facing small shuttle bays with blast doors
+ Crazy looking (fake) power reactor