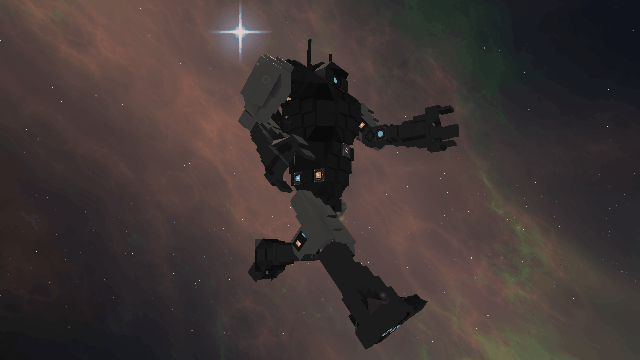 Meet
Johnny Runner
! – A super compact StarMade mech suit, designed to
actually
enable Dave to run faster!
Standing 22 meters tall (24 including his antennas), his size might be intimidating for Dave, but as far as StarMade robots go, he's almost as compact and cute as is physically possible on this level of functionality.
He has functional shoulder, elbow, hip and knee joints on both sides, all of them controllable from the hotbar (you can use these inner-ship-remotes to manually reset body parts if the animation's autoreset fails, which it sometimes does).
To get him running, just flip the main hotbar switch, but only from the default body posture (all limbs hanging downward)!
To stop, just deactivate the same switch, and the system will bring the mech back into a balanced resting state.
Try to resist the urge of using the manual controls while the animation runs.
Server saving or other laggy events tend to mess up the dance; in such cases, just stop it, manually reset, and the system will be usable again.
He also has a maximal thrust-mass-ratio, and 3500 shield cap at 11 hp/s net recharge. Have fun with it!
If you're interested in creating animations of your own, here's a variant that's identical minus the jogging circuitry:
"Johnny Runner" mech suit (variant without animations)
(This download is a RAR package, containing the .sment file as well as the original blueprint folder, because sometimes inter-entity wireless connections get unlinked by .sment exporting)