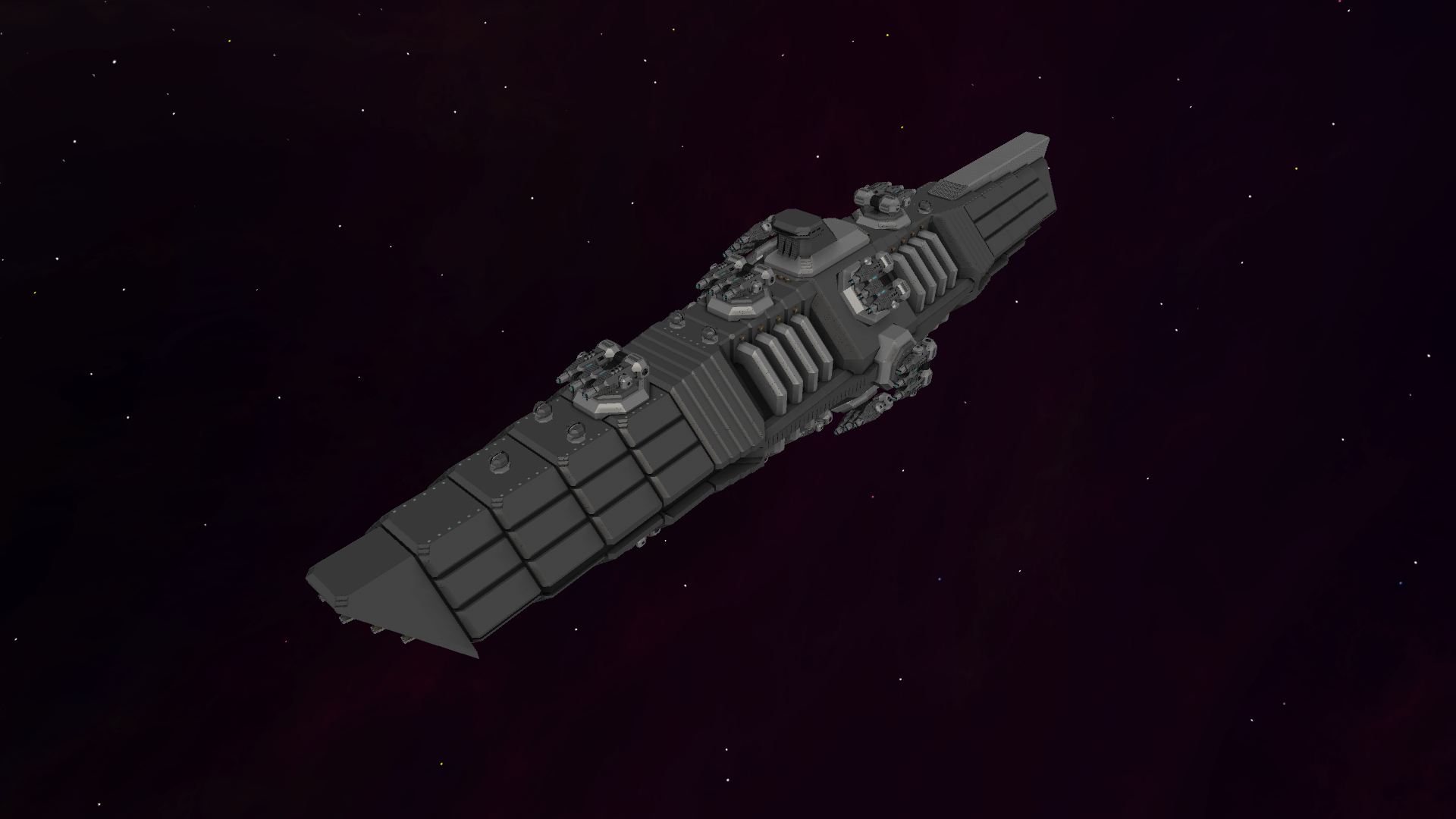 Just a cool-looking warship with a minimalistic, nautical-ship-inspired hull. Low-effort systems design of questionable performance. No interior at all (however, there's a large volume of empty space below the bridge, which should allow for a custom interior of decent size).
Use it/modify it as you wish
If anyone builds an interior into it, I would love to see it!
(Feel free to send it to me, I'll showcase it on my shipyard thread.)
You can download its offensive turret here:
Cerberus 2500 - Basic beam turret
Dimensions with turrets included: 143 wide, 137 high, 560 long
354K total mass (317K own mass)
20mill e/s reactor output (80K blocks of stabilization buffer)
233 m/s max speed (1.3 TMR)
87.5mill HP shield capacity (220K HP/s net recharge)
Internal reinforcement materials: yellow and orange standard armor
Scanner base --> Usage duration Lvl1 + Strength Lvl1
Jump drive base --> Autocharge
Jump inhibitor Lvl9 --> Range Lvl1
Shield enhancement base --> Shield capacity Lvl1
Top speed Lvl2
NOTE: In combat, level down the top speed chamber! This will enable you to either max out the scanning strength, or increase the jump-inhibition range by one level.
Shield: 5.5mill (27.5% of reactor output)
Thrust: 5.5mill (27.5% of reactor output)
CONS BY SINGLE TURRET
Resting: 62,500 (66,100 with 3,600 base load included)​
Charging: 250,000 (253,600 with 3,600 base load included)​
Extra active load: 187,500​
CONS BY ALL TURRETS
Resting: 859,300​
Charging: 3,296,800​
Extra active load: 2,437,500 (12% of reactor output)​